FLATLAND zeer verheugd met Jasper de Beijer  (1973) (English Below)
Februari 2019
FLATLAND is zeer trots dat de Nederlandse kunstenaar Jasper de Beijer zich bij FLATLAND aansluit.
De Beijer is meedogenloos vernieuwend en FLATLAND is vereerd hem in de galerie te verwelkomen. De galerie zal zijn werk in Europa vertegenwoordigen. 
De Beijer heeft in het bijzonder al vroeg een verpletterende indruk gemaakt in het uitbreiden van de taal van fotografie. Het materiaal voor zijn fotografische beelden bestaat al lange tijd uit zijn zelf gefabriceerde diorama's, zorgvuldig samengestelde schaalmodellen en met de computer gegenereerde beelden.  
Sinds zijn afstuderen aan de Hogeschool voor de Kunsten in Amsterdam en Utrecht in 1997 heeft De Beijer ononderbroken zo'n 14 projecten voltooid. Ieder project is gebaseerd op een uitgebreid researchtraject dat De Beijer zichzelf eerst oplegt. Van het verwerken van een groot aantal verslagen van ontdekkingsreizigers, antropologen en documentaire filmmakers, of het opnemen van een studie van landschapstekeningen, etsen en gravures van Nederlandse meesters als Hercules Seghers, Jacob van Ruisdael, Rembrandt van Rijn en Vincent van Gogh. 
Met een mix van fotografie, tekenkunst, papier-maché, maquettes en digitale beeldbewerkingen pakt hij tegelijk het historische als het huidige beeld van zijn onderwerp beet, mengt hij westerse en niet-westerse wereldbeelden en speelt hij op sommige momenten met het toekomstige beeld. Zo verwerkt hij sinds 2017 objecten uit collecties van etnografische musea met video-gametechnologie om een virtuele omgeving te creëren die ergens tussen een museum, een theater en een fotoarchief ligt. 
In dit licht voltooide De Beijer in 2018 een residentie van zes maanden in Instituut WIELS, Brussel, waar hij onder andere onderzoek deed naar het Afrikamuseum in Tervuren. 
Het resultaat is te zien in juni 2019 wanneer hij in WIELS een solotentoonstelling krijgt in de projectruimte. 
In 2019 was zijn werk te zien (en opgemerkt door ArtNet) bij Asya Geisberg op de beurs Untitled Art San Francisco. Verder zal zijn werk tentoongesteld worden in het Centre Photographique Rouen, Frankrijk in 2020.
Het werk van Jasper de Beijer wordt door FLATLAND getoond op de komende editie van ART ROTTERDAM – vanaf woensdag 6 februari t/m zondag 10 februari, 2019.
MEER OVER JASPER DE BEIJER: 
http://www.flatlandgallery.com/artists/jasper-de-beijer/
———-  
FLATLAND welcomes Jasper de Beijer
February, 2019
Flatland is delighted that Dutch artist Jasper de Beijer joins Flatland. De Beijer is seen as a leading figure of expanding the language of photography. The gallery will commence European representation of all his work.
Since he graduated in 1997, De Beijer has been celebrated for his modeled scenes and carefully assembled tableaux as material for his photographic images. He has since completed a total of 14 projects, each of them based upon either numerous reports of explorers, anthropologists and documentary filmmakers, or a study of landscape drawings, etchings and engravings from Dutch masters like Hercules Seghers, Jacob van Ruisdael, Rembrandt van Rijn and Vincent van Gogh; or his projects are based on the objects from the collection of ethnographic musea mixed with video-game technology to create a virtual environment which is somewhere between a museum, a theatre and a photo archive. In 2018 De Beijer finished a six month residency at WIELS, Brussels, where he has done research on the Africa museum in Tervuren (amongst others). In 2019 his work was exhibited at Untitled Art Fair San Francisco and in 2019 WIELS will host a solo show of his works in the project space. In 2020 his work will be exhibited at the Centre Photographique Rouen, France in 2020.
De Beijer is relentlessly innovative and Flatland is honored to welcome him in the gallery.
The work of Jasper de Beijer will be presented by FLATLAND at the upcoming edition of ART ROTTERDAM from February 6 until February 10, 2019.
MORE ON JASPER DE BEIJER: 
http://www.flatlandgallery.com/artists/jasper-de-beijer/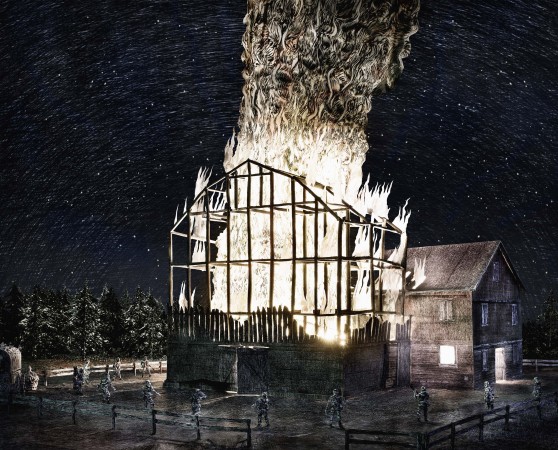 Image: Jasper de Beijer, 2-28-1993 (from 'Mr. Knight's World Band Receiver') 2014 c-print 170 x 137 cm