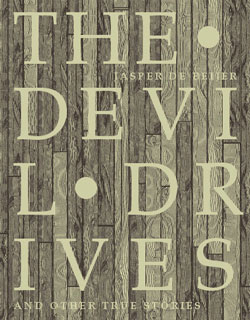 THE DEVIL DRIVES AND OTHER TRUE STORIES (2005)
The Devil Drives and Other True Stories is the first book to offer an overview of the remarkable work of the promising young artist Jasper de Beijer (1973). The three series The Devil Drives, Buitenpost and Cahutchu are intriguing visual accounts based on historic sources: the report of a Victorian explorer describing his quest for the source of the Nile, the photo album of a Dutch attaché stationed in the Java of the 1920s, and images of an old boom town in the middle of the South American jungle. Employing photography, drawing, paper models, digital imaging and stylistic devices derived from advertising, cartoons, cinema and video clips, De Beijer stages and reconstructs the past, conjuring up worlds of adventure and ambiguity that one can only enter with a sense of wonder.
Price: € 30.00 incl. VAT, but without shipping.
CLICK HERE to order.